We're a community choir based in Brunswick, Melbourne, open to anyone who enjoys singing and meeting new people. Rehearsals are social events for one-off drop ins, or ongoing practice for regular attendees. We work towards performances at local gigs and arts events. We sing original arrangements of pop, soul, jazz, world and folk music.

No vocal or musical experience is necessary as we are an all inclusive non-auditioned group. It's all about strength in numbers!
Choir members regularly get together for dinner before choir and hold other social events such as Open Mic Nights. At Open Mics, people are encouraged to perform a song, join in a song, play an instrument, perform spoken word, or share any other creative works. People are also welcome to just come along and be the audience. Friends and family are welcome too!
---
History

Beyond the Bathroom Choir was started in 2013 by musician Pippa Andrew. Pippa was able to secure a rehearsal space in the Edinburgh Castle Pub and enticed people with a low $5 entry fee and a free beer. With no audition and commitment-free casual attendance, it became an opportunity for people of any or no music skill to have a go at singing in a choir. This brought people of all ages and backgrounds, including travellers, short term residents and many Melbourne locals. The choir grew quickly and unfortunately the free beer and low fee were no longer!

Over the years many gigs have been held at various locations in parks, at markets, at festivals and more. We have even sung twice at the annual Donate Life Service of Remembrance for organ donors, donor recipients, and their families. Check out our Events page for a look at photos from our gigs, and our Videos page for recordings of the choir.

In 2017, Pippa asked for volunteers to assist with forming a committee to help run the choir. This led to the choir becoming an incorporated association in August 2017, with a committee of ten people elected at our Annual General Meeting each year. The choir also moved to offering annual membership and term subscriptions for regular attendees, alongside the original option of casual attendance.

Pippa moved to Vancouver, Canada in 2019 to pursue new opportunities. Visit Pippa at pippaandrew.com

As with most organisations, from the beginning of 2020 the COVID-19 pandemic has had an effect on our community of singers. We were unable to meet in person for the majority of two years. The choir still continued to sing together, but online over Zoom, and we even welcomed new singers during this time. We are now enjoying the freedom to meet in person again, and take every precaution to stay COVID-safe, in order for the singing to continue.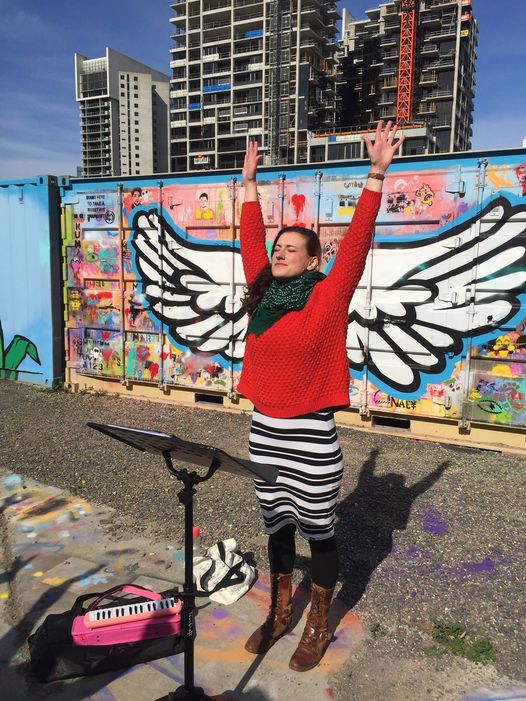 ---
Our Musical Director

Loz Irwin-Ray is a Melbourne-based musician who specialises in voice, double bass, electric bass and piano. Loz covers plenty of ground in the Melbourne music scene, working as a vocalist, double bassist, electric bassist, pianist, choir director, performer, composer/song-writer, educator, arranger, session musician and curator. She typically plays and writes in genres including folk, jazz, improvisation, blues, pop, funk and neo-soul.

Loz has been musical director of Beyond the Bathroom Choir since taking over from Pippa in 2019. Loz kept us busy in 2019 with multiple gigs soon after she started, including a fantastic drumming workshop and a lovely performance at Queen Vic Markets. When the COVID-19 pandemic started, Loz proved to be exceptionally versatile as we switched to rehearsals on Zoom. Loz's enthusiasm for her role is infectious and she has motivated us to keep singing through a difficult two years. Loz has lots of exciting plans for the choir coming up!

Visit Loz at lozirwinraymusic.wordpress.com